Something you don't see often is a review of hair colour products. Today I am reviewing
THE AMAZING MAGICAL VIVIDLY COLOURED
Manic Panic Semipermanent hair colour, original cream formula.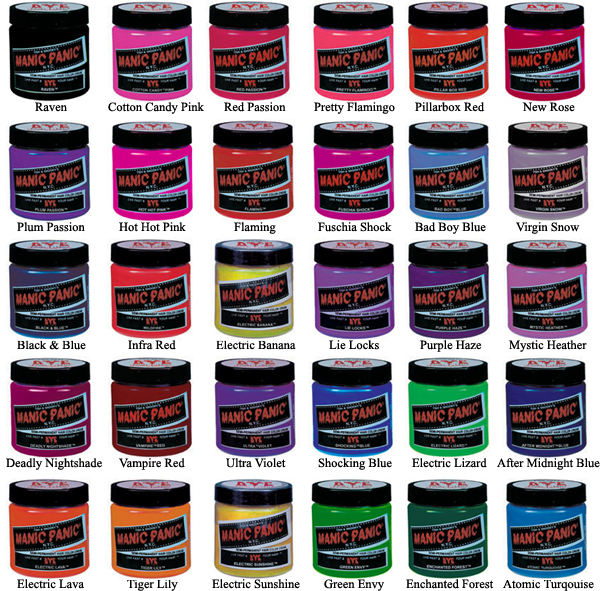 Despite the amazing colour selection and easy application this isn't that great a product. I'm guessing the amplified creams and gels are a lot better, but even just finding the original cream can get tricky in Canada. They have it at Shopper's Drug Mart, usually on a little tiny shelf on an endcap somewhere or on the top of one of the regular shelves so you can't see the colour names.
Application is decent, you apply to freshly shampooed and towel-dried hair, wait half an hour or so and rinse out, applying heat if you wish. You will need to buy at least a tint brush and a tint bowl is nice too because all you get for the $15 pricetag is a jar of colour. Oh yeah, you will also definitely need gloves. The main problem most people find with application is if they don't have a lot of experience with colour, especially runny colour like this, especially brush application, on yourself, it gets ALL OVER THE PLACE. Even me, who is on her way to a career in hair, who knows all the colouring techniques, who has the equipment, doing it on someone else...somehow managed to get a bit of pink on the kitchen chair. And it really doesn't come out. It comes out of your hair but not the furniture. Make sure you have a non-stainable cement laundry tub to rinse in like I do.
The colour, after rinsing will be noticably darker or more vivid (depending on the chosen colour) than expected. You will get the colour you wanted after you shampoo once, three hours minimum later. This stuff absolutely has to be applied on light or bleached hair.
Despite all this, you do come out with a really nice colour. But let me tell you about the aftermath. If you used a blue or green colour (like when we had Blue Week at school and student council bought our hairstyling class jars of Manic Panic to use on any student who came in), it does not come out easily. If you bleached your hair anyway to put the colour in, you won't care. But on natural hair? Let's just say Blue Week was in March and there were people desperately trying to get it out for the May semi-formal. However...I personally use the Ultra Violet colour for a few highlights and I used Hot Hot Pink on my sister. Three or four shampoos later, and it is gone. I prebleach my dark brown hair and my sister is a natural blonde. Doesn't seem to matter.
We did Pink Week last year instead, around Valentine's day and used Special FX colour instead. So I'm going to use up what's left of my Ultra Violet and then figure out where to buy Special Fx, it worked a lot better and no one was left with pink hair months later.