I am not one to wear a ton of accessories, however I will offer the knowledge that I have. :)
Belts: are in. Particularly those with large buckles, "seatbelts", studs/rhinestones, or those that go OVER clothes...nice wide ones, usually with more than one clasp and very stiff.
Hats: I still see a lot of berets and pageboy type hats...basically anything slouchy. Hardly anyone wears hats, however, they are not untrendy...I think people just don't know what to do with them. I have a big straw (well, technically it's paper fiber) sunhat with a beaded band. I get compliments all the time on my "funky/nifty/cool/insert-the-word-of-your-choice hat". You can really express yourself with a hat. So get a hat.
Shoes: it seems to depend on what group of people you hang out with. I see the sporty people with what they describe as "rad high tops", those who tend to dress up a bit more with sky high heels, the in between people with a classic sneaker...but what I see the most is flats and Converse. Oh, and of course flipflops *spits over shoulder*. Sorry, not a big fan of those sandals. Your feet get all dirty, they aren't at all supportive or are they stylish. Good for the pool. The flats, I think are really great because there are soooo many styles, from sneaker-like to dressy. Mine are red plaid with a little bow and they were only $5 at Giant Tiger. But, I did have to put insoles in them because of course they had no support whatsoever. Flats are still really trendy looking and can suit your style, whatever that may be...but are still comfortable. What I like the most is that generally they have a round toe! I wish they would make heels in that style because I have wide feet and can't do the pointy toes. Okay...Converse...these are really cute on some people and again can suit many styles...I'm sure you have even seen them worn with a skirt as well as the popular tucked-in-with-skinny-jeans look. I'm not really a fan and I doubt I would be able to wear them anyway because they are quite narrow. So overall for shoes? I don't think it really matters but if you are looking to pick something new up I would suggest flats.
Bags: this year all my friends (and me!) are back to backpacks...we've tried the tote, the bookbag, the one-strap backpack, the messenger bag; nothing seems to work as well as the classic backpack. Nothing can hold as many books nor can it be as comfortable and distribute the weight as well as a backpack. Yes, they are not that stylish...but especially with senior courses...let's just say you get senior textbooks and they weigh a LOT!
Other bags, like purses? Depends on how much stuff you like to carry around. The teeny little purses are still popular, as well as the big "it bag". I personally like a big bag. I enjoy being able to carry around my cell phone, several lip colours, several packs of gum or mints, a million coupons, a mirrored compact, a book, my iPod, pens, paper, alllllll that stuff! I find they really don't make a lot of ugly purses anymore so just pick something you like! Leather (or leathery-like at any rate) is always very classy as is canvas. I would avoid fabrics that resemble gym clothes, lunchbags, towels, or anything else you would not want like that. I just have a black purse and that matches pretty much everything although if you really wanted I guess you could get a couple different ones.
Jewelry: if you have your ears pierced why not utilize those holes? ;) I know it's easy to forget, keep earrings near your normal morning stuff (your keys, your mascara, your hairbrush) and they will be hard to miss. If you find that you skip earrings a lot of mornings because they are hard to get in and it takes forever to get a cotton swab and alcohol or whatever...a bottle of face mist (toner spray) is a quick solution. It's something I use every day for my face anyway so it is handy on my dresser in the first place...I just spray a little on my holes and my earrings just slide right in. If you skip earrings because you just don't have time for finicky stuff in the mornings, you can always sleep in a pair of studs or small hoops. Then they're already in when you wake up and you don't even have to think about it.
I would recommend a classic watch...something simple in neutral colours that you can wear every day.
Bracelets, you can have a lot of fun with these without looking overdone! Tie on a knotted floss bracelet or stack a bunch of bangles, whatever floats your boat. I find that you can really and truly do what you please with bracelets, because they are so far away from the rest of you, unlike having necklaces and earrings and hairclips and a headband and a scarf...all cluttered up around your face.
Necklaces: like I said under bracelets, you do have to be careful with these since they can make or break the look. With me--when in doubt, leave it out. There are so many pretty ones, from long strands of eclectic beads to a delicate pendant...make sure to pick something that flatters the neckline of your top eg. a pendant with a v-neck, a choker with a t-shirt.
Rings: I for one love rings. A big flower ring you pick up for cheap, a small ring that means something special to you...again with the hands, I don't really think you can overdo hands. I can wear nail polish, a watch, bracelets and a ring and not feel OTT. Rings can make a statement or be subtle, you can wear a couple or just one, bright funky ones or a little diamond. I have seen a lot of rings recently and that is just so awesome!
Other stuff: Anklets...a nice way to add some flair to your look but please don't wear them over socks, or anything super jingly, you're not a jester. Toe rings are cool in my mind if you can pull them off. Piercings other than the standard lobe or two: in my opinion, people who have extra piercings have done them for a reason or purpose and it is very much part of them. Obviously I am not going to recommend on here whether or not to pierce your eyebrow, because it has nothing to do with style and along with that, the jewelry you choose to wear in that piercing will fit with your thoughts. Piercings are never in style nor are they out of style. I only have my lobes pierced anyway so I have no authority so say that I like my belly bar better than my belly ring or whatever. Sorry.
(I have this ring from mark. by Avon and I love it.)
Scarves: I am seeing a ton of scarves this year. Long thin ones wrapped around multiple times. So if you want the trend, that's it (think Hannah Montana). But really, get a couple of scarves anyway no matter what the trend. They are a great alternative to a necklace in that they have a much softer, looser look and you can really do a lot with them.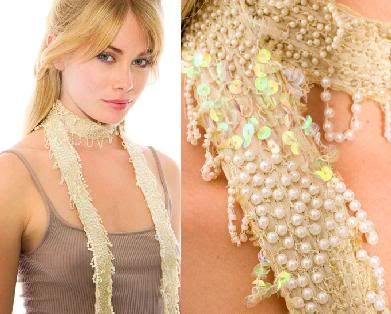 So...to wrap up accessories I think that I should say, add a little piece here in there to your outfit! It really, really adds something and can give even a plain outfit individuality.